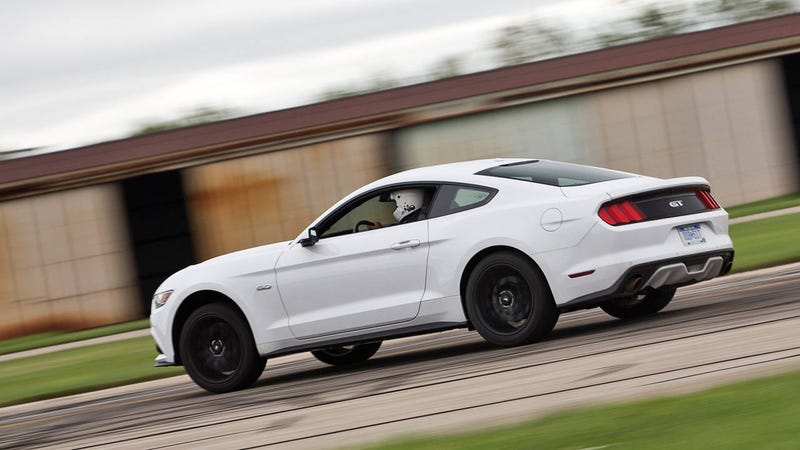 I'll cut right to the chase. The 2015 Ford Mustang GT is excellent. We had this white car, a GT Premium with the Performance Pack, in our PCOTY posse last week in Ohio and Detroit. Everyone loves it. Well, except Robin.
Here's what I said over at R&T:
I have an '06 Mustang GT convertible. I love that car, even though it feels like it was smashed together with a nail gun compared with the post-'09 editions. And now it might be time to part ways with it, because the 2015 Mustang GT is pretty special.

In Ohio's Hocking Hills, where we took our 2014 Performance Car of the Year candidates for real-world drive impressions, it was comfortable, fast, involving, predictable, and composed. The car has matured—a lot. It's not just 5.0 muscle and tire smoke; there's real agility to exploit. Mind you, I drove the GT in a group that also included the Porsche 911 GT3, the Lexus RC F, and the Italian-superhero Ferrari 458 Speciale. It confidently, casually held its own in that heady company.

I'd take it over the BMW M235i without a second thought. The Mustang, you see, is livelier and more engaging, gleefully invalidating many import-car arguments. That's a handy thing, since it's now being sold where the import cars actually come from. All I thought when I was behind the wheel was that if the regular GT is this good, the Shelby GT350 will have rivals smashing office furniture next year.

Oh, and the line lock? It ruins tires exactly as advertised. Ford didn't just build a better pony car, they went and built a great car, period.

Still needs a set of Magnaflows, though.
More first impressions from Jason Cammisa, Robin Warner, Jack Baruth, Josh Condon, and Sam Smith are posted along with mine, here:
Either later today or tomorrow, we'll have additional feedback from Cammisa, who is, at this very moment, at the Mustang launch event in Los Angeles, so he'll have more GT thought, plus his take on the EcoBoost.

Robin also hooked the Vbox up to the GT while we had it. The pertinent numbers:
0–60 in 4.6 seconds
13.0-sec quarter mile @ 110.9 mph
60–0 braking in 114 ft.
It weighed in at 3,806 lbs. (Cammisa says it's all muscle, no fat.)
Here's the full test data worksheet:
Long story short: the new Mustang kicks ass. And considering how good it is in stock GT form, the GT350 is going to wreak havoc next year.
No more "for a Mustang" qualifiers—the new Mustang GT is great. Period.