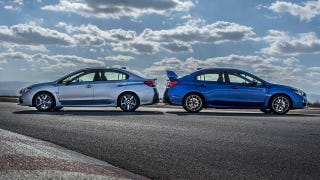 There's no finer fight than a good, old-fashioned sibling rivalry. That's exactly what Subaru has brewed up between the 2015 WRX and STI. With it's all-new direct-injection turbo 2.0-liter four, the WRX boasts a far more sophisticated heart compared to the STI's old 2.5-liter lump.

But which is the brawnier brother? We stuck them both on a dyno to find out. Read the full story, complete with numerous power graphs, here.
Oh, and we also put the plain WRX trunk on the STI. Because you know, boredom.