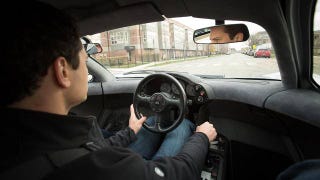 The McLaren F1 is on a different plane of existence. Ask Sam Smith; he knows. After driving the Ferrari 288 GTO, our executive editor managed to finagle seat time in Woking's supercar demi-god.
Was it a letdown? Hell no.
This wasn't just any McLaren F1, either—it was the first customer car ever. Chassis No. 0001. Street value: $10,000,000. (We think.) And he was in Chicago.
The inside looks like a secret CIA spaceship and there's gold foil in the engine bay. The steering is perfect. And you'll have to read what else he has to say about it, because it's almost beyond description.