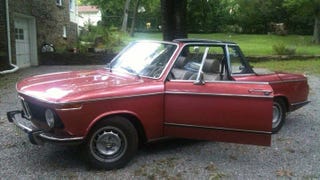 Gearhead and all-around good guy Bentley Marlow is having a seriously shitty Monday. Someone swiped his '75 BMW 2002 Baur Cabriolet from his driveway in downtown Knoxville, Tennessee between midnight and 8 am this morning. It was wearing Tennessee antique auto tag number AA90769, and is VIN 3590458. If you see the car, do the right thing and call the cops.
You can also reach Bentley by email at rbentleymarlow@gmail.com.

Let's find this car.