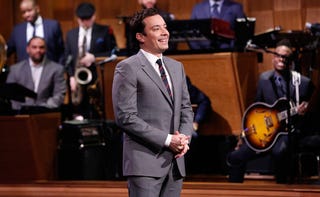 You all know Jimmy Fallon wants to buy a truck. Well, we're gonna help him. This evening, R&T editor in chief Larry Webster will be Jimmy's guest on the The Tonight Show, where they're gonna sit down and talk pickups.
It should be awesome, so please tune in. We're currently polling to see what readers say he should buy. As of right now, the Raptor and a Craigslist beater are tied for the top spot.
And speaking of beaters, Kierstein makes a hell of a case for just buying an old truck. He did, and it's awesome. And Krewson explains why the whole team loves trucks, period. (The red Toyota above? That's Larry's. The dually GMC is Kierstein's. The Ford is creative director Dave Speranza's.)
So please, chime in with your opinions, then tune in to watch Larry with Jimmy tonight. We'll post the clip when it's available.