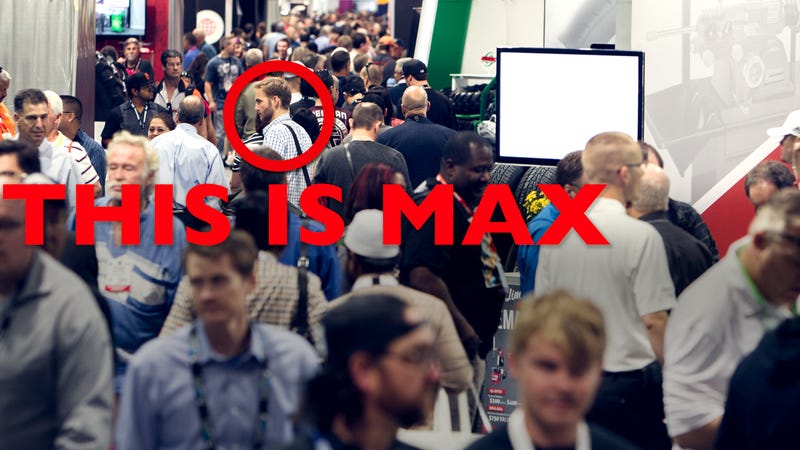 At 8:30am, I fall in with the masses being herded into Las Vegas Convention Center for the Specialty Equipment Market Association (SEMA) Show. More than 135,000 people will pass through these limo-tinted doors before Saturday, and I'm told there's no way any one meager man can see everything that's inside. It's the sheer magnitude of space here, the abundant sprawl of America's largest automotive aftermarket trade summit, that's been known to break spirits. I'm undeterred.
My assignment is to see it all, armed with full media credentials and a corporate credit card. R&T's west coast guy, Chris Cantle, is joining. He's a devout Californian with a wiry build and positive demeanor. Dependable. Trustworthy.
We meet by a patriotic airbrushed first-generation Dodge Viper R/T in the Central Hall at 11:00 a.m. and start perusing. Incongruous booths in endless aisles crisscross endless rows, mangled blocks of truly tasteless motoring commerce. A 20x20' display costs $17,970; a 30x60' display costs $66,900; a 50x60' display costs $108,840. Forget the Bellagio and Mandalay Bay: during SEMA, the real action is inside the Convention Center.
READ THIS: A 250-cc middle finger to the government shutdown
Anxiety among the exhibitors is palpable. They're sweating through department store cologne and polo shirts with company logos embroidered on the breast. The attendees—some locals, others tourists—don't seem nearly as worried, just conflicted. The faces here say, "I've come to SEMA of my own free will, but I'm still here begrudgingly." Chris, who's visited this show before and lived to tell the tale, says my observations are about right.
We seem to be making good progress, seeing lots of products and shaking hands and feigning interest with a Congressman's dexterity. There is some serious sheetmetal here, and it isn't long before we zero-in on the Ringbrothers Recoil, a reimagined '66 Chevelle with 980 hp. Things are looking up as Mazda rolls out its new MX-5 Global Cup racer, and Kia shows up with a IPA-dispensing Sedona sponsored by Ballast Point microbrewery. But morale takes a late-afternoon hit when I stumble onto the excellent and familiar Zendex Tools RakJak™ pneumatic floor jack display. Are there two identical kiosks? Oh, no…
"Good god, man, we're back where we started!" I say.
"This is only one of the halls," says Chris.
"How many halls are there?" I ask.
"Four."
I'm not sure why he's smiling. There's still so much to see.
Meddling packs of attendees on mobility scooters slow our pace. Most aren't physically disabled in any way—they're simply tired or overweight or inexplicably hurried, or some combination thereof. They hover below the sightline, weaving through crowds at twice the walking speed, beige pleather seatbacks saddled with canvas tote bags, overflowing from a glut of posters and brochures and empty soda bottles. Time and time again, I'm nudged, bumped, jostled, or clipped by a passing scooter. Reversing into the flow of foot traffic, one of these rat bastards nearly runs over Chris.
"I'm okay with punching a man off a scooter," he announces loudly.
Tensions are running high. We defuse the situation with Sbarro and chitchat about sport trucks.
Nippon beers, rye cocktails, and steak dinner at SLS Casino & Hotel, then we roll down the Strip, neon-humming rainbows reflected off our fireapple-red Mazda 3 press car. Everything in Las Vegas is tangible, but nothing is real. Willful suspension of disbelief is a prerequisite for thrills. Bar? Club? Debauchery? After a long day, it feels forced. "We shouldn't seek out sadness," I say diplomatically, Chris nods in agreement.
At a stoplight, I glance left. A spray-painted W202 Mercedes sits in the next lane, inside which two depraved women gyrate in our direction, then proposition me. To my right is a pearlescent white R32 Skyline GT-S, behind which a man older than my father is heaving vomit. In Las Vegas during SEMA, the sadness finds you.
I wake up with a sore jaw and smelling like the city. There are acres of SEMA left to conquer, though, so I skip showering and join Chris in taking photos at 7:00 a.m.. He's far too energetic for this hour, especially considering the sleep deprivation. Always smiling, this guy is, like a goddamned Cheshire cat.
READ THIS: I wrecked America's best-selling car
Everybody is gruffer today. Could it be the heat? Walking into the Convention Center, thieves with facial scars thumb glossy stacks of escort cards, buzzing like rattlesnakes and try forcing them onto us. The mobility scooter cohort has grown. The total number of rentals is unknown, though one vendor claims his operation does 'a minimum' of 400 per day. One of these rolling buffoons nearly hits me. I'm slow to react, mainly because my bag is filled with brochures and flyers. It's starting to feel heavy, starting to wear on me. We set our sights on the South Hall, but it's unclear how we'll manage to see all of the show before tomorrow afternoon.
The wheel and accessories expo is SEMA's best-lit exhibition and darkest corner. It's one continuous blur of clothes and breaths and odors and balking determination and chrome. Transfixed by the multicolored Savini Wheels display, an errant attendee rolls over my big toe with his mobility scooter. I recognize him as the swine who'd come perilously close to crashing into me an hour earlier. He is now my nemesis.
Deeper into the menagerie, two women dressed like risqué brides are locked inside a Plexiglas cage and throwing confetti on each other under the pretense of promoting CEC Wheels. I've never heard of the company. I wonder how long it's been since someone fed these women.
Is it possible that there are fewer carcinogens outside the Convention Center with a cigarette in your mouth than inside without one? It feels that way. I watch as a man in jean shorts fumbles an oxidized flywheel into a tub of liquid rust remover, splattering chemical solvent into the face of a show girl. She brushes it off without breaking from her paint-on smile.
READ THIS: Chasing down a burglar in a $1600 Miata
Concern for her well being is quickly matched by that for my own when Chris tells me he's leaving, taking the Mazda back to Los Angeles. He's deserting. The smile. That bastard is in on the whole thing, sending me on this fool's errand. I'm furious but don't want him to leave. He's become a compass of normalcy in this seedy automotive hole. We eat a late lunch at In-N-Out Burger, where a glob of Thousand Island dressing falls onto my last clean shirt. Chris, the Benedict Arnold, deposits me back at the Las Vegas Convention Center for more.
Outside, there's a Scion FR-S with rivet-on widebody fenders, and a Subaru BRZ with rivet-on widebody fenders. Inside, I'm alone, left to fend for myself. The thought of absconding crosses my mind, but I've come too far to give up now, damn it. Great works are performed not by strength, but by perseverance.
Not ten minutes after re-entering the tinted doors, I'm lost. Aimlessly wandering SEMA for hours, I frantically scribble in my notepad: 'The 3M™ Cubitron™ II File Belt Sander is a big hit.' 'Sbarro isn't good two days in a row.' 'The Toyo Tires girl is sad. Why is she so sad? Is she out of drugs? Did somebody grope her? Has nobody groped her?' 'The Like90 QUICK CHECK™ Gloss Simulator makes color matching and panel checking faster.' 'Every fool on the Internet likes the Mustang, and there are so many here. We should've taken more photos of Mustangs. Tomorrow. Where is Chris? Oh, yeah, he's gone. Did I already say he's a bastard? He's a bastard.'
It's dark outside when I finally escape the Convention Center, stumbling dizzy and seeking sanctuary. Faded escort cards swirl in the breeze like perverse autumn leaves.
My taxi groans to a halt outside the hotel. Jesus Christ. KISS is playing a concert in the adjacent building, and a legion of followers is here. They wear makeup and costumes, the whole feckless lot of them, even the children. Too many freaks try to squeeze into the hotel lobby entrance, and I get stuck. For a moment, I can't get through the front door, wedged between KISS fans. They flick their tongues.
After 20 minutes I finally make it to the fifth floor suite, home. I'm starved, but don't want to risk going near the lobby again. The hotel restaurant is overrun. I'm sure of it. I barricade myself in the room and eat Skittles for dinner, waiting for daylight.
By 6:15am my heart is filled with hate knowing what I must do to see all of SEMA…
Sunlight stings my eyes as I buck and skid through North Hall's double-doors, blasting away from the Scoot-a-Round mobility scooter rental depot at breakneck speeds. I message Chris gibberish with photographic evidence of my triumph, shaming him for abandoning our mission.
I nearly tip over while ambitiously mounting a high curb outside either the South Hall or Central Hall, inches from a lowered five-door WRX with glittering vinyl and fuchsia Enkeis. Instead of throwing out a leg to catch the fall, I reflexively jam the throttle and careen over, sending bystanders scattering. I am fully assimilated.
This is power … the intoxicating whirl of seeing more, seeing it all. Nipping at the heels of able-bodied men, I throw elbows and chain smoke cigarettes and spit when I speak and fear not the thousands of other parasites, only my own mortality next to a SkyJacked F-250 Super Duty with color-matched headlight insets and two-tone interior. I imagine it rumbling to life, belching sulfuric hydrocarbons like blackened hellfire from its chimney, and crushing my scooter and skull in one fell prod of the accelerator pedal.
A woman stops to say I'm too young to be on the scooter. I try to explain. We defeated the Nazis and cured polio and put a man on the Moon. She looks like she's seen a madman. Everybody does. Do I? Chris is dead to me. The 3M™ Cubitron™ II File Belt Sander is a big hit. Miller Lite from a Sbarro cup. There's a patriotic airbrushed first-generation Dodge Viper R/T. Get a grip, man!
READ THIS: Meet Jock Horsfall, the blind racecar driver who helped defeat the Nazis
In hopes of regaining control, I find a stinking pigsty of a men's restroom at either the North Hall or South Hall or Central. Parked parallel to the shortest urinal is a rental scooter, and I watch its rider swing his legs sideways to straddle the porcelain slab. He slouches backward, positioned so he'll arc into the bowl while remaining seated. Then he groans. The splashing of liquid on liquid begins.
I glance down at my own scooter and stained shirt, consumed with the purest kind of contempt for the automotive industry, grieving deeply for the person I was before coming to Las Vegas for the Specialty Equipment Market Association Show.