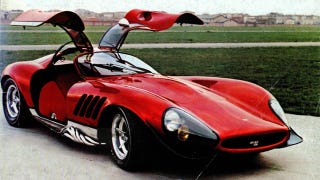 If you are ever in Modena, Italy, you may see a big blond kid tearing down the street on a Lambretta scooter with a big, mean-looking German shepherd on board. That will be Tom Meade going about his business with his very ferocious dog along for the ride. Both are familiar figures in a town where there are few…
My boss gave me one hour with the Ferrari 458 Speciale. It came with just one instruction: don't wreck it.
F1's turbocharged racing engines, past and present, require fuel that's perfectly adapted to their incredible demands. We talked to the man in charge of tailoring Shell's fuel for Ferrari, and also got close to one of the 1000+ horsepower monsters that made F1 in the 1980's so thrilling. Check it out.
90% of guys think they can handle a car like this, but the Ferrari 458 Speciale is aimed at the 10% who actually can. The dedicated circuit warriors who can deal with the 133 hp per liter and throttle response sharp enough to shave with.