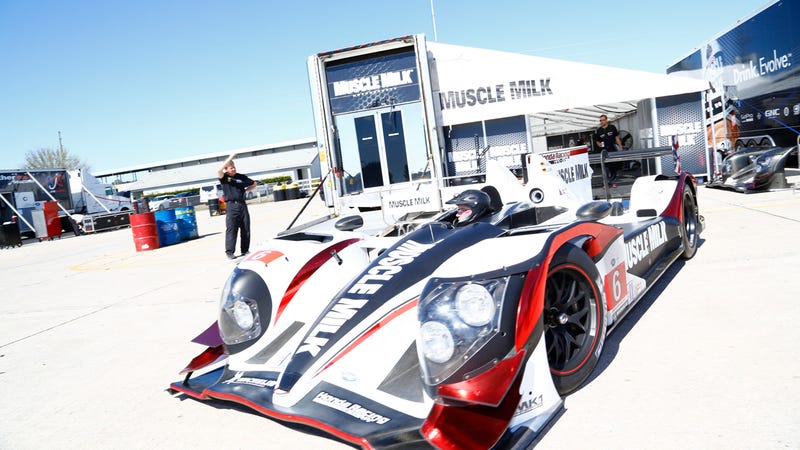 You might think the departure of the LMP1 cars from American sports car racing next year is no big deal (ALMS, after all, only had two teams running the monsters). You'd be wrong. Because having the best tech on the track is only ever a good thing, as Larry Webster learned.
Muscle Milk Pickett Racing let Larry climb into their HPD ARX-03A prototype, the one usually piloted by Klaus Graf and Lucas Luhr, at Sebring earlier in the year. Among the lessons learned by our EiC after his time in the Honda: Don't wear an open-faced helmet in a P1 car.
An invisible hand has cupped my chin and is pulling me headlong out of the cockpit. The force stretches my neck, my helmet rising clear of the small windscreen.
The experience behind the wheel is, to say the least, unique.
Time: 5:16 P.M.Location: TURN SIX Speed: 130 MPH

When asked how to get through this right-hander, the Honda's regular driver, German Lucas Luhr, let out a dismissive huff: "Ja, you can go [flat] all the way through. It's supereasy." In other words, any monkey can keep the gas floored. This monkey feels skittish, the tires are so reticent that they may as well be mute, and there's no perceptible body roll. The electrically assisted power steering offers surprisingly little feedback.

This lack of communication is the hardest thing to overcome. Given time, I think I could get used to the speed, the downforce, the way the carbon brakes scrub speed like you've plowed into a concrete wall. But I don't have that subconscious feel for what the car is doing.

Luhr alluded to this, calling the car's signals "subtle and quick." From the cockpit, it feels more like I'm driving a simulator. You have to use your eyes to suss out what the car's doing, not the seat of your pants.
Read the whole thing for the (sometimes hair-raising) details of what it's like to drive one of the cars at the top of the sports-car racing food chain.
And shed a tear for the now-departed LMP1 class in America.