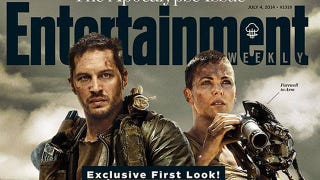 The cover of this week's EW, on sale tomorrow, has the world's first look at Tom Hardy as Mad Max in George Miller's long-awaited continuation of the story, Fury Road. With Hardy is Charlize Theron's character, Imperator Furiosa, whose looks are very Sigourney-Weaver-in-Alien-3, only with more robot arm.
Here's the full cover.
EW's piece with more official photos is now online:
We continue to hope that Max is not driving a Ford Maverick prepared by West Coast Customs...