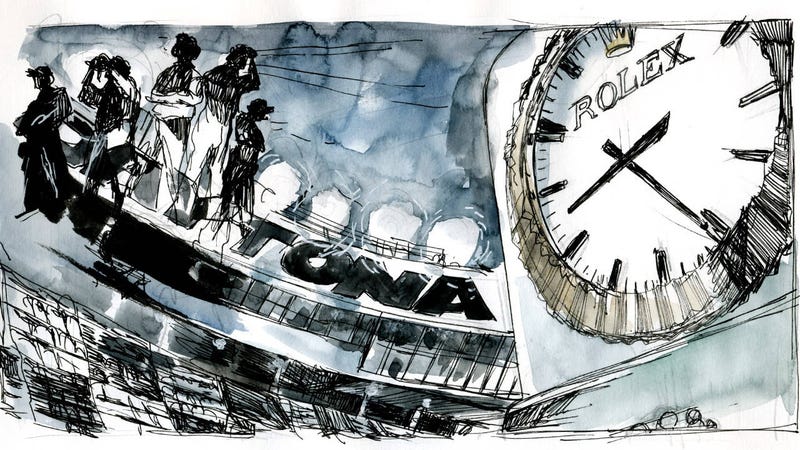 For the 2014 Rolex 24 at Daytona, we decided to do things a little differently and challenged Madrid-based artist Daniela Guglielmetti to cover it old-school for us. Each hour, for all 24 hours of the race, she would produce an original ink-and-watercolor illustration to capture what had transpired over the last 60 minutes. It was everything we hoped it would be.
The pieces shared here represent just a sampling of her efforts from over the weekend. You can see all 24 at R&T proper, where an hourly recap by Chris Cantle adds context to the imagery.
We'd like to do this again, and we think it's pretty clear that Daniela is up to the task. So, what events do you think might translate nicely? Indy? Le Mans? Monaco? We're open to suggestions, so feel free to weigh in after you've digested the artwork.
Enjoy:
Hour 1 - Green flag:
Hour 3 - In the pits:
Hour 5 - Sunset:
Hour 8 - Fireworks:
Hour 13 - Naptime for the crews:
Hour 14 - Superfan and his RV:
Wait...a football player? What gives? Here's a real shot of that Winnebago:
Cantle chatted up the owner at length and will have a post on him and his mobile home base for the race tomorrow. Good guy. Cool rig. I'll add a link to that piece once it's up.
Hour 15 - Night racing:
Hour 21 - Cone muncher:
Hour 24 - Victory:
And once she was done, Daniela's office looked like this:
Go check out all the illustrations at Road & Track.
Hope you dig these as much as we do. As for Daniela, you can follow her on Twitter at @dagugli. Read her own blog on the epic assignment right here.